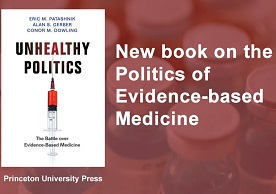 Authors Alan Gerber, Eric Patashnik and Conor Dowling recently published their book, Unhealthy Politics: The Battle over Evidence-Based Medicine (Princeton University Press). The book delves into the U.S. healthcare system's massive inefficiencies, the reasons why our system is much more expensive than other countries, its over-treatment and under-treatment of patients, and why politicians have been so reluctant to embrace the cause of evidence-based medicine.
CSAP Director Alan Gerber is also Dean of the Social Sciences Division, ISPS Resident Faculty Fellow, and Charles C. and Dorathea S. Dilley Professor of Political Science at Yale University.  Eric Patashnik is Julis-Rabinowitz Professor of Public Policy and Political Science, and Director of the Public Policy program at the Watson Institute for International and Public Affairs at Brown University.  Conor Dowling is Assistant Professor of Political Science at the University of Mississippi, and a former Postdoctoral Associate at the ISPS Center for the Study of American Politics.
Learn more about the book at "Why We Can't Have Nice Things, Like a More Rational Health Care System" (WBUR), and "We Know that Evidence-Based Medicine Works. So Why Don't Politicians Support It?" (Monkey Cage).
From the publisher:
"
This critically important book draws on public opinion surveys, physician surveys, case studies, and political science models to explain how political incentives, polarization, and the misuse of professional authority have undermined efforts to tackle the medical evidence problem and curb wasteful spending. It paints a portrait of a medical industry with vast influence over which procedures and treatments get adopted, and a public burdened by the rising costs of health care yet fearful of going against "doctor's orders." The book shows how the government's efforts to promote evidence-based medicine have become mired in partisan debates. It also proposes sensible solutions that can lead to better, more efficient health care for all of us."