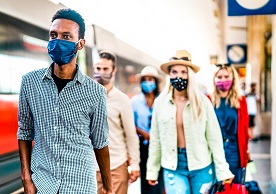 The increased use of face coverings as a defense against COVID-19 creates social norms that encourage more people to mask up in public, according to a new study co-authored by Yale researchers Greg Huber and Scott Bokemper.  Huber and Bokemper are both affiliates of the Yale Center for the Study of American Politics.
The study, published Oct. 11 in the journal PLOS One, is based on two survey-based experiments conducted in the United States and Italy, countries that have experienced severe COVID-19 outbreaks. It found evidence that, in both countries, when increasing numbers of people wear masks, it creates a self-reinforcing cycle that promotes the behavior in others. It does not cause people to "free ride" by not wearing face coverings while enjoying the protection afforded by those who wear masks in public places, according to the study.
Link here to read the full story by Mike Cummings in YaleNews.