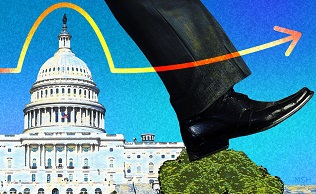 Presidential nominees to top-level executive positions make headlines, and occasionally produce drama, but their experiences in the media's glare do not provide a full picture of how presidents approach, and often game, the Senate confirmation process.
A recent study by Yale political scientist and CSAP faculty affiliate Christina M. Kinane shifts the focus away from the prospects or fate of individual nominees to examine the frequent instances when presidents intentionally leave positions vacant or fill them with interim appointees, who can then wield authority for lengthy periods without Senate confirmation.
The study, published in the journal American Political Science Review, found that presidents are more likely to install interim officials into positions that have a high capacity to influence public policy, allowing the White House to pursue its priorities while skirting Senate oversight.
Link to read the full story by Mike Cummings in YaleNews (May 4, 2021).
(Illustration by Michael S. Helfenbein)