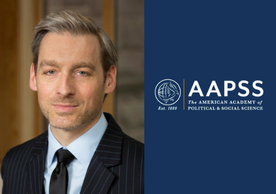 Jacob Hacker, CSAP faculty affiliate and invited Fellow at the American Academy of Political and Social Science (AAPSS) participated in a webinar event, "Civic Responsibility and the Repair of American Democracy," on Tuesday, February 1, 2022 at 2:00 pm (US Eastern Time). Watch the video on YouTube.
Professor Hacker was among a panel of some of the brightest thinkers in social and political science from the newest class of AAPSS Fellows as they assessed and discussed the current moment in our nation's history.  Leaders are contending with a once-in-a-century pandemic, a reckoning around our legacies of racism in our nation, and a combination of polarization and socio-economic inequality that has poisoned our politics, making even the most seasoned observers worry about the survivability of America's institutions of democracy.
Will these crises ultimately make the country stronger, or is our union at a breaking point?
How can we surmount extraordinary polarization and replace it with a new kind of American civitas?
What kinds of institutional and public actions are most needed to promote a productive and engaged citizenry?
What do history, social science and comparative studies tell us about where our nation stands now, both in terms of our own history, and in relation to democracies around the globe?
Meet the  Panel:
Carol Anderson, Charles Howard Candler Professor of African American Studies, Emory University
Jacob Hacker, Stanley Resor Professor of Political Science, Yale University
Rucker Johnson, Chancellor's Professor of Public Policy in the Goldman School of Public Policy, University of California, Berkeley
Mary Pattillo, Harold Washington Professor of Sociology and African American Studies, Northwestern University
Kathryn Sikkink, Ryan Family Professor of Human Rights Policy at the Kennedy School, Harvard University
The panel was moderated by Nick Lemann, the Joseph Pulitzer II and Edith Pulitzer Moore Professor of Journalism and Dean Emeritus at Columbia University.