How scientific information is communicated can have a significant impact on public debate and policy outcomes.  Dr. Kathleen Hall Jamieson from the University of Pennsylvania Annenberg School and Public Policy Center addresses this issue in her talk, "Communicating the Value and Values of Science," on October 7th from 4:00-5:30 p.m. in Luce Hall Auditorium located at 34 Hillhouse Avenue on the Yale campus.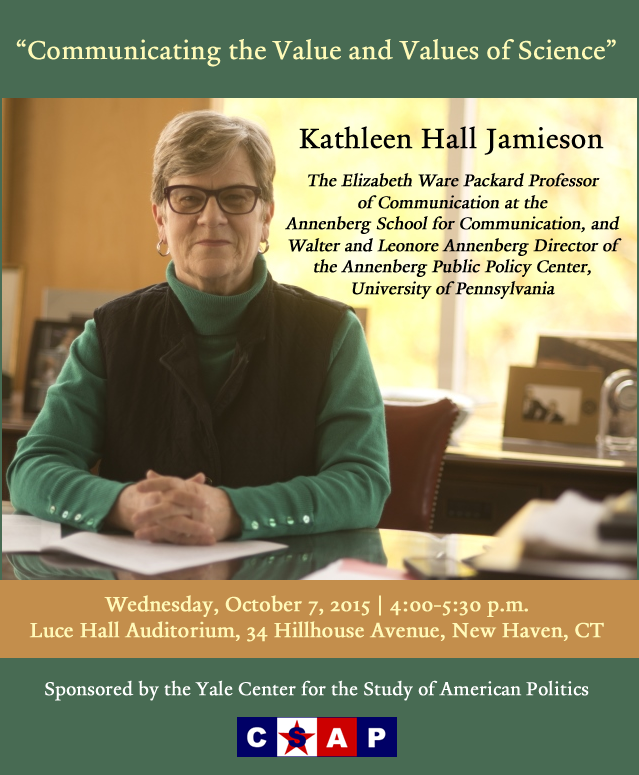 Description: This presentation will recap and build upon the ideas originally offered in the DBASSE Henry and Bryna David Lecture. It will argue that as a way of knowing, science carefully defines key terms, faithfully accounts for evidence, acknowledges the limitations in data and methods, and champions a climate characterized by critique and self-correction. Communication that fails to honor these norms increases science's vulnerability to critics and calls into question the scientific enterprise's ability to protect itself from the effects of human bias.  After flagging instances in which scientific communication did and did not embody these norms, the lecture will outline ways that communicators can embody and express science's values and value.
The Elizabeth Ware Packard Professor at the Annenberg School for Communication of the University of Pennsylvania and Director of its Annenberg Public Policy Center, Kathleen Jamieson is a fellow of the American Philosophical Society, the American Academy of Arts and Sciences, the American Academy of Political and Social Science, the International Communication Association and a Distinguished Scholar of the National Communication Association. Five of her sixteen single or co-authored books have received political science or communication awards. Additionally, The Obama Victory: How Media, Money and Message Shaped the 2008 Presidential Election (written with Kate Kenski and Bruce Hardy) received the 2010 American Publishers Association's PROSE award as best book in government and politics. Jamieson has earned teaching awards at each of the three universities at which she has taught. In 2013, she keynoted the NAS Sackler Colloquium on the Science of Science Communication.
This event is free and open to the public.