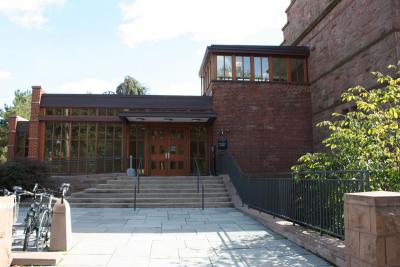 Center for the Study of American Politics
Institution for Social and Policy Studies
Yale University   
   77 Prospect Street
   P.O.Box 208209
   New Haven, CT 06520-8209
Additional travel information is available through the Yale Travel Services website.
Travel by Car
Interstate 91:
From north and south: Take Exit 3 (Trumbull Street Exit). Stay in the middle lane and continue straight through the traffic light onto Trumbull Street. At the fourth light, ISPS will be on the right-hand corner.
Interstate 95:
From north: Turn off turnpike at I-91 North Exit (Hartford, Springfield Exit) and continue for a short distance on I-91 to Trumbull Street Exit 3. Follow I-91 directions above.
From south: Take Exit 49, I-91 North (Hartford, Springfield). Follow I-91 directions above.
Route 15 (Wilbur Cross/Merritt Parkways):
From north: Take Exit 61. Drive south on Whitney Avenue for approximately five miles. At the intersection with Sachem Street, turn right onto Sachem. At the first stoplight, turn left onto Prospect St. ISPS is on the left-hand side of the street just before the next stoplight.
From south: Take Exit 57. Drive east on Route 34 (Derby Avenue) for five miles to the fork of Derby Avenue and George Street (three blocks past the Yale Athletic Fields). Bear right on George Street. Continue on George Street to York Street. Turn left on York Street and then the third right on Elm Street. Continue on Elm for two blocks. Turn left onto College St. at the second stoplight. Continue to drive straight through one stoplight. At the next stoplight, ISPS is just past the light on the right-hand side.
Parking at Yale
On street metered parking is available near ISPS and around the Yale campus.  Yale Visitor Parking is also available for a fee unless you are being hosted by a sponsoring department.  Please contact Pamela Greene in advance if you wish to arrange for campus parking during your Yale visit.
Travel by Air
Tweed New Haven Airport (4 miles from campus) has taxi, bus and car rental services.
Hartford Bradley International Airport (53 miles), LaGuardia International Airport (72 miles), Kennedy International Airport (80 miles) and Newark International Airport (92 miles) require connecting ground transportation to New Haven.  Options include car rental, private car service (Hy's Limousine or Premiere Limousine), or shared shuttle service (Go Airport Shuttle).
Travel by Train
Metro-North (a subsidiary of New York's Metropolitan Transportation Authority) features hourly commuter service to New Haven from Grand Central Station in New York (800-638-7646).
Amtrak features travel times of 141 minutes between New Haven and Boston and 89 minutes between New Haven and New York Penn Station (800-USA-RAIL).
The train station is also served by several bus lines, such as Greyhound and Peter Pan.
The train station is a twenty minute walk from campus and local taxi service is available (fare is approximately $8). A free Yale Shuttle service operates during the day from 7:00 am to 6:30 pm for those with a Yale ID.